By a show of hands, how many of you have seen some one boasting about their chia-seed-filled breakfast on social media? Or how about having a Pinterest feed full of chia seed recipes? I know mine is up!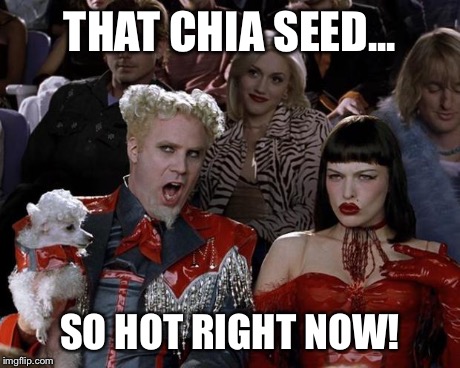 As with most trends, I need to make sure it is tried and true before I start to experiment with it. Every time I go to Trader Joe's, I see the small bag of chia seeds and am always so tempted to get it, but really, what would I do with them?
But really, why not get them? I shouldn't let my lack of creativity stop me from these awesome little guys.
Chia seeds are a nutritional powerhouse, with just one tablespoon boasting 70 calories, 6 grams of fiber, 3 grams of protein, and 5 grams of fat (mostly polyunsaturated, 3 of those grams are the omega-3 fatty acid ALA).
The recipe for a very basic chia seed pudding is one part chia seeds to four parts milk (of your choice), and from there you can customize with whatever sweetener or other additions you want!
I packed this for a snack at lunch, and I could barely finish because it was so filling! This makes for a great breakfast that will leave you satisfied for hours.
Overnight Coconut Chia Seed Pudding
Servings: 1
Difficulty: (super)easy
Ingredients:
2 Tbsp chia seeds
1/2 Cup Vanilla Coconut Milk
Drizzle of honey (probably 1-2 tsp)
Mixed berries (the more the merrier! But probably about 1/4-1/2 cup)
Directions:
Place chia seeds and coconut milk in a small, sealable container and stir. Let sit 2-3 hours, or overnight, in the refrigerator. Once set, give it a good stir and try a small bite to see how much honey you need (1-2 tsp, or none at all if the sweetness from the coconut milk is enough for you). Top with mixed berries and enjoy!